At Purdue Marketing and Communications, who we are is what we do. And what we do is share with the world the powerful story about how, through a persistent pursuit of the next giant leap, Purdue University is changing the world. Again and again and again.
Using the Purdue brand as our platform and its story as our inspiration, we tell Purdue's unique story across all channels — from marketing and branding to public relations and internal communications — with consistency, creativity and impact.
Leadership Team
R. Ethan Braden
Senior Vice President, Marketing and Communications
Julie Rosa
Associate Vice President – Strategic Communications
Kati Pratt
Director of Brand and Marketing Strategy
Kelly Hiller
Director of Creative Services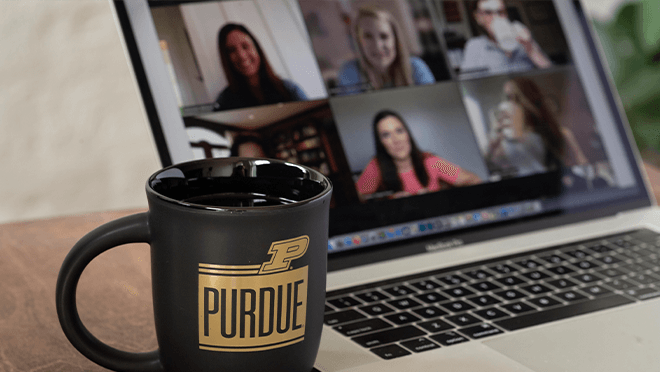 'We never stopped playing offense'
Purdue's marketing leadership had a vision of the organization necessary to make the biggest possible impact. The Marketing and Communications team steadily built toward that vision during the 2020-21 academic year, even amidst the uncertainty created by the COVID-19 pandemic.
It was a distinct challenge to onboard 13 new staff members in an all-virtual environment. But after adding talented newcomers in creative services, marketing strategy, strategic communications and technology and operations, the team was better positioned to share Purdue's remarkable story with the world.
Join Our Team
Our university is a place of brilliant minds, fresh ideas and actions that move our world forward. And our department is privileged to tell the story with an omni-channel approach.
We invite you to join us. Purdue Marketing and Communications is always looking for new, aspiring talent and field experts in marketing communications.