Protecting the Purdue Community at a Critical Time
Reopening Campus, Remaining Open Amid Pandemic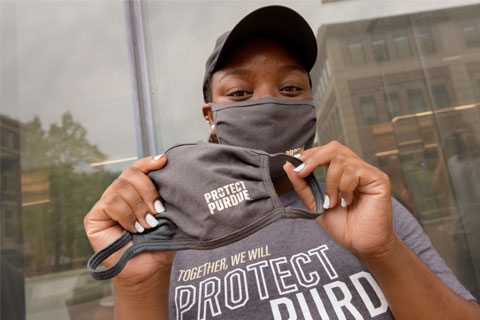 As we prepared to launch Purdue's evolved brand platform in early 2020, the world found itself in the midst of a crisis — as the COVID-19 pandemic upended every area of daily life, including our effort to deliver residential learning and instruction on our Purdue campus.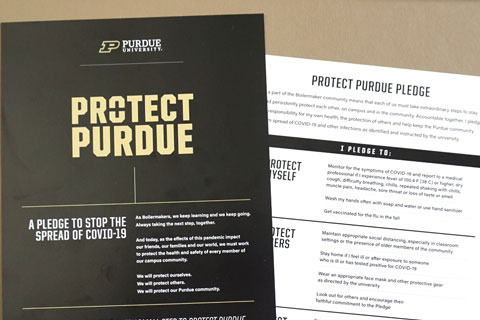 Almost overnight, it became our task to lead the messaging and change management efforts as Purdue worked to safely offer an in-person experience for 50,000 students, faculty and staff amid the pandemic. Key to our effort was to identify and protect the most vulnerable members of the Purdue community.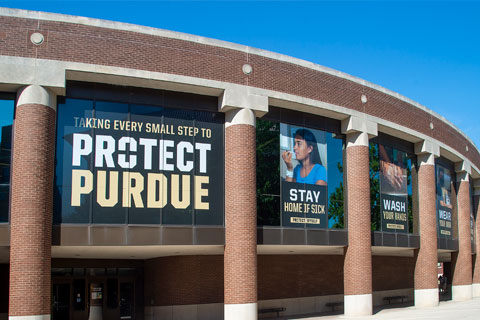 Our mission was to communicate strategically for the administration of 100,000+
samples and tests as well as the quarantine, isolation and contact tracing for all students,
faculty and staff. During a dynamic public health crisis, the effort centered on managing
change and creating a culture that encouraged the behaviors and careful steps needed to
ensure the safe return to campus for a community of more than 50,000 people.
A cornerstone of our communications strategy was the Protect Purdue Pledge. Rather than giving people orders to comply with, the pledge gave everyone something higher to which to aspire.
Protect Purdue: Major Actions
DIGITAL INITIATIVES AND IMPACT
Protect Purdue: Major Actions
CHAMPIONING A SAFE CAMPUS
Recognizing the need for peer encouragement that aligned with the Protect Purdue Pledge, we created the Protect Purdue Ambassador program. The fall Ambassadors made up of more than 200 students, including 20 team leaders, from all class years and colleges.
The impact:
Executed 50+ projects and events to help students navigate pandemic life
Activated @boilerambassadors on Instagram to share reminders, tips and information
4,500+
HOURS WORKED
in Fall 2020 in Support of Protect Purdue
5,000+
FACE MASKS
and other items distributed in Fall 2020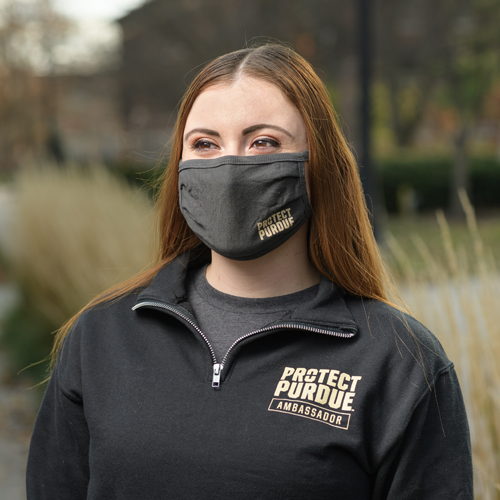 "Being a Protect Purdue Ambassador gives me purpose, a practical way to be part of the solution. It's not just a resumé builder, and it's not just a title. It's a duty and an honor."

Maddie Deselem
(BS '20) Neurobiology, Physiology
Protect Purdue: Major Actions
PRESERVING COMMENCEMENT IN UNCERTAIN TIMES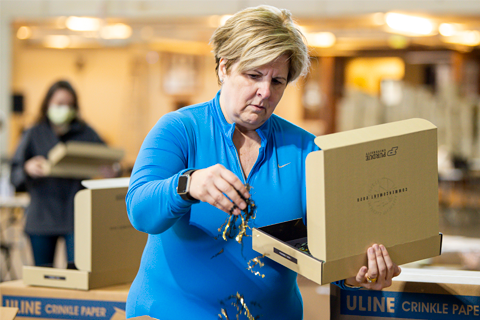 We partnered with the Office of the Registrar to produce commencement boxes for the spring, summer and winter 2020 ceremonies, which were held virtually because of the pandemic. Packaged in a coordinated, Purdue-branded gold and black sleeve, the boxes declared, "This Giant Leap We Take Together."
9,600 graduating Boilermakers
12,000+ commencement-in-boxes produced
13-by-10-inch keepsake was filled with Boilermaker memorabilia
Students/families downloaded 1.6 million promotional assets