Unifying the Marketing of Purdue
Positioning, Promoting and Protecting the Purdue Brand.
Deep insights, a single voice, a bold and distinct look, a powerful story to tell — all aimed to advance an already iconic brand. We launched Purdue University's evolved brand platform, "The Next Giant Leap," in early 2020, introducing a compelling brand essence, identity and messaging that have propelled prosperity and reputation, during a pandemic and will thereafter, based on 150 years of education, research and engagement.
Purdue's new brand is about one voice, organized and aligned around a clear and effective message.
— Mitch Daniels, President
Speaking as 'One Purdue,' One Voice, with Bold Look
Brand platform envisioned to create "One Purdue" impressions — flexible and accommodating for colleges and departments while preserving recognized brand character and equity
Institution-wide, unified identity including the adoption of a new signature logo containing the "Motion P" mark and a streamlined, unwavering black and gold color palette
Created a brand platform that can resonate with different target audiences and deliver a variety of messages, but with an identifiable, disciplined and strong look and feel across all platforms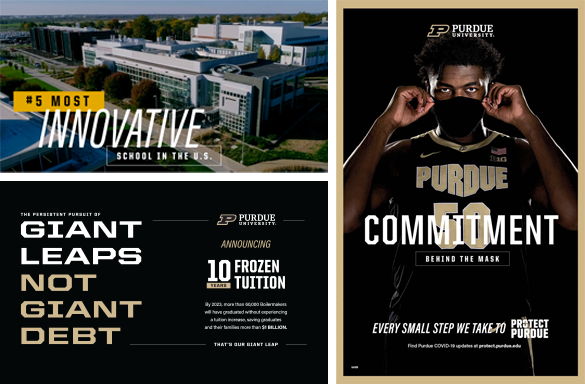 Providing Marketing Discipline and Common Resources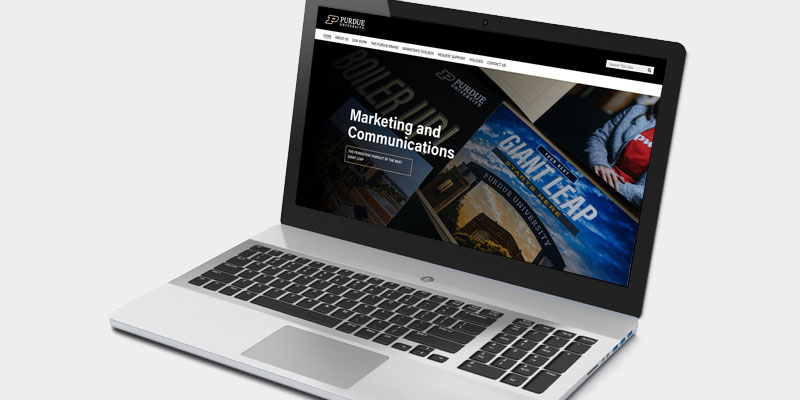 A dynamic brand website —
marcom.purdue.edu — that powerfully showcases the brand and helps others do the same with success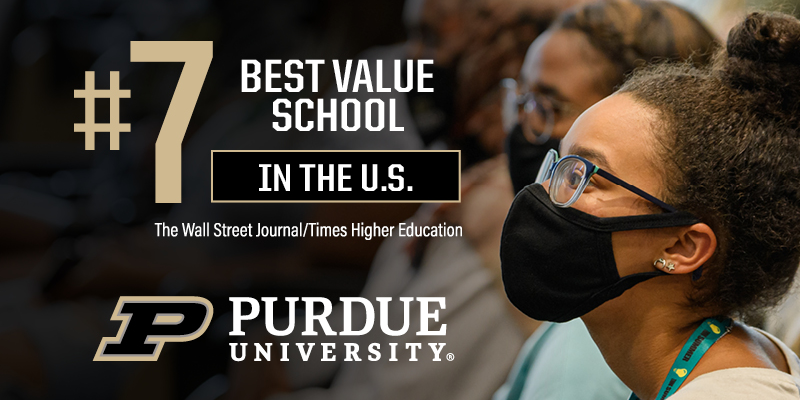 A resource library like Purdue University has never experienced before
Professional-grade, shared resources and assets including guides, tools, templates, software, photography, and video, along with prepackaged, comprehensive content packages for easy localization and execution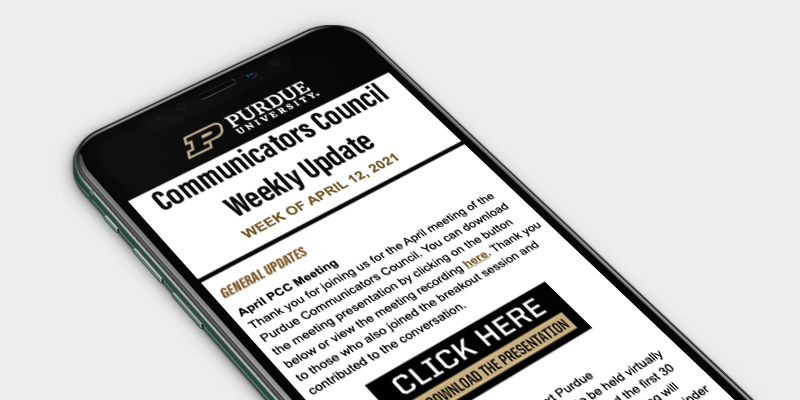 A new PCC Weekly newsletter
Highlighting resources and practical ideas in digestible chunks, reaching 550+ faculty, staff and external partners
Cultivating Campus Partnerships
Forming key campus partnerships showcased how the new, unified brand platform can excite external (and internal) stakeholders, provide a more consistent experience and stimulate interest in University offerings. Partnerships across campus included:
Data Science
Partnering with College of Science and Integrative Data Science Initiative (IDSI) to reposition, tell their story and demonstrate their expertise as leaders at the forefront of data science.
Weldon School of Biomedical Engineering
Partnered with Weldon School to elevate reputation of Purdue's BME program by developing and deploying a positioning, compelling storytelling and messaging plan based on audience and competitor research.
Veterinary Hospital
Partnered with College of Veterinary Medicine to localize master brand strategy and messaging for new $100 million veterinary hospital, slated to open in spring 2022.
Cybersecurity
Collaborated with our six campus partners in cyber to develop preliminary plans for marketing and storytelling of Purdue's global leadership in this field, focused on equipping the next generation of leaders in the field and innovating the tools that help ensure economic security, readiness and resilience in the face of rising cyber threats.
College of Agriculture
Partnering with the College of Agriculture, Purdue Marketing assisted in increasing the eyes on a recruitment video that showcased our renowned biological engineering program, ranked No. 1 nationally for a ninth straight year.
---
Krannert School of Management
Bachelor of Science in Industrial Management (BSIM)
This collaboration focused on revitalizing Krannert's storied Bachelor of Science in Industrial Management (BSIM) program, which had experienced a significant decline in enrollment and interest. Research led by Purdue Marketing included 1:1 interviews, focus groups, and peer audits with students, advisors, recruiters, alumni and corporate partners. The research highlighted:
Confusion about program offerings for prospective students.
Lack of an internal champion or advisor who could inform, train and grow program.
Employers didn't know how to place program students, and students struggled to articulate quickly what they could offer an employer.
In addition to Krannert deciding to rename BSIM to the Integrated Business and Engineering (IBE) program, the research led to interdisciplinary curriculum and program changes:
Stronger hybrid education, including labs in both Business and Engineering.
Full-time faculty member hired as program's "internal champion."
Corporate projects.
Structuring IBE as exclusive 50-student cohort.
324
APPLICATIONS
an eight-fold increase
183
ADMITS
a nearly 400% surge
Leveraging 'Reasons to Believe' to Tailor Messaging and Aid Recruitment
Our greatest hits of Purdue's national and global rankings and traditional points of pride, what we call our core "Reasons to Believe (RTBs)," provide the foundation for content packages, social campaigns and other marketing materials.
The goal for RTBs: test, understand, and then leverage best performing claims across the university and strengthen their impact by marrying them with stories that are personally applicable to target audiences, including prospective students and families, allowing them to believe in and see themselves at Purdue.
Our evolving lineup of RTBs now anchor many content packages, which we create and encourage campus partners to utilize and share as part of the Purdue story through their own channels.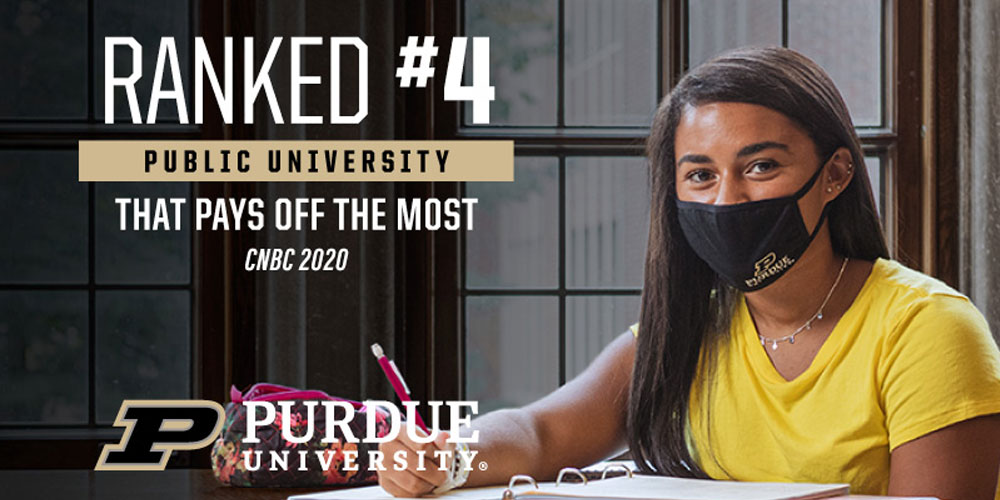 #4
Public University that Pays off the Most
CNBC 2020
#5
Most Innovative University in America
U.S. News & World Report
#7
Best Value School in the U.S.
The Wall Street Journal/Times Higher Education