Refocusing and recasting an essential program
One of the Krannert School of Management most respected programs had a perception problem: after years of achievements and accolades, the Bachelor of Science in Industrial Management (BSIM) was struggling with its enrollment goals.
Purdue Marketing and Communications partnered with Krannert to help this vital program find and connect with its audience.
Together, we conducted 1:1 interviews, focus groups, and peer audits with students, advisors, recruiters, alumni and corporate partners. We uncovered misperceptions among prospective students, missed opportunities to champion the program from within, and a general uncertainty about how to express the program's offer to employers. Ultimately, our research contributed to a name change and supported curriculum updates that strengthened the program and its offer.
Renamed the Integrated Business and Engineering (IBE), the reimagined program is structured about as an exclusive 50 student cohort emphasizing hybrid education, including labs in both Business and Engineering. Further, the IBE program now has full-time faculty member serving as the program's "internal champion".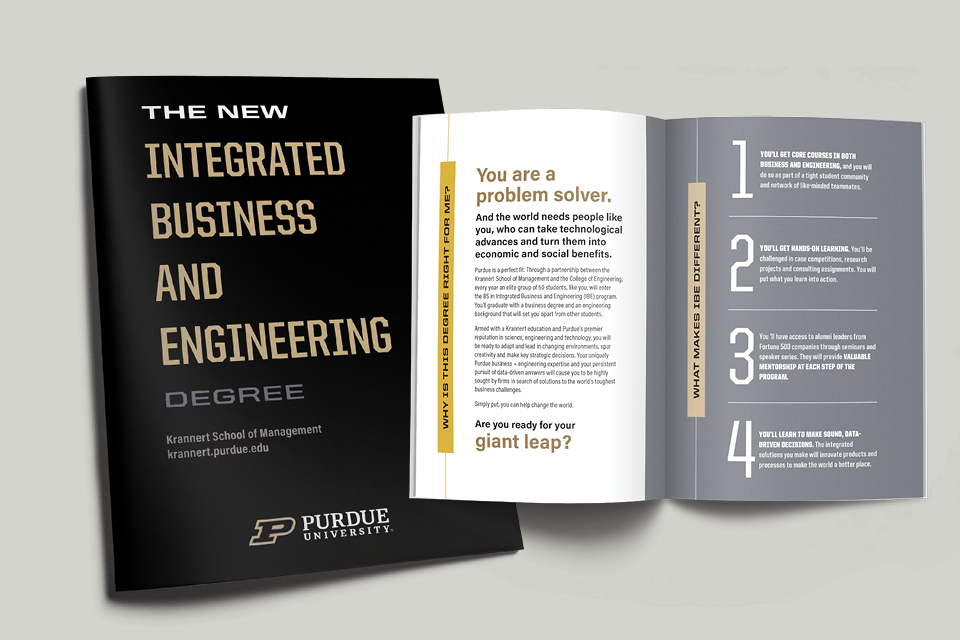 The results of the change are apparent:
324
APPLICATIONS
An Eight-Fold Increase
183
ADMITS
A Nearly 400% Surge
We couldn't be more proud of the results of this remarkable collaboration. See the video ad for the program here.