Voice and Tone
Video Transcript
Throughout our history, generations of Boilermakers have left their mark. In small steps and giant leaps.
And today, we continue in those footsteps. Because the world still faces tough challenges. The adventure still lies ahead. So, we keep learning. We keep going.
We keep going with every tiny epiphany that comes from the thrill of discovery. We keep going with each unexpected realization that uncovers new knowledge and possibility. We keep going because it's what keeps us going.
Persistent in our pursuit of innovation, again and again and again. We leave nothing untried, nothing untested and nothing undone.
It's why we work harder here. Why we strive to be our best so we can become the best. Because we are the instigators of progress. It's what we live for. And it's what we're here for.
Always, always, taking the next step, together. Because every giant leap starts with one small step.
PURDUE UNIVERSITY
THE PERSISTENT PURSUIT OF THE NEXT GIANT LEAP
Our voice is how we bring the key messages of our brand to life. It's how we express the Purdue personality and give all our communications a human spirit. While our message is what we say, our voice is how we say it. The following voice guidelines serve as the core of our creative platform, and the filter we should use for every communication.
This is the beating heart that's behind the surface of everything: Who we are, what we do and why it all matters.
Brand Narrative
It's inspiring, and it sets the tone for our writing and brand language. But the creative platform is more than a set of poetic phrases: It encompasses our entire messaging strategy and sparks it to life. Although it shouldn't be used word for word when communicating externally, use it as inspiration for sharing our story.
Here, we break down why the brand narrative is written the way it is and detail some of the different ideas and techniques you can pull from it as you're writing. You don't have to — and likely can't — capture all of these ideas in one piece, but this will give you a framework to refer to as you're working.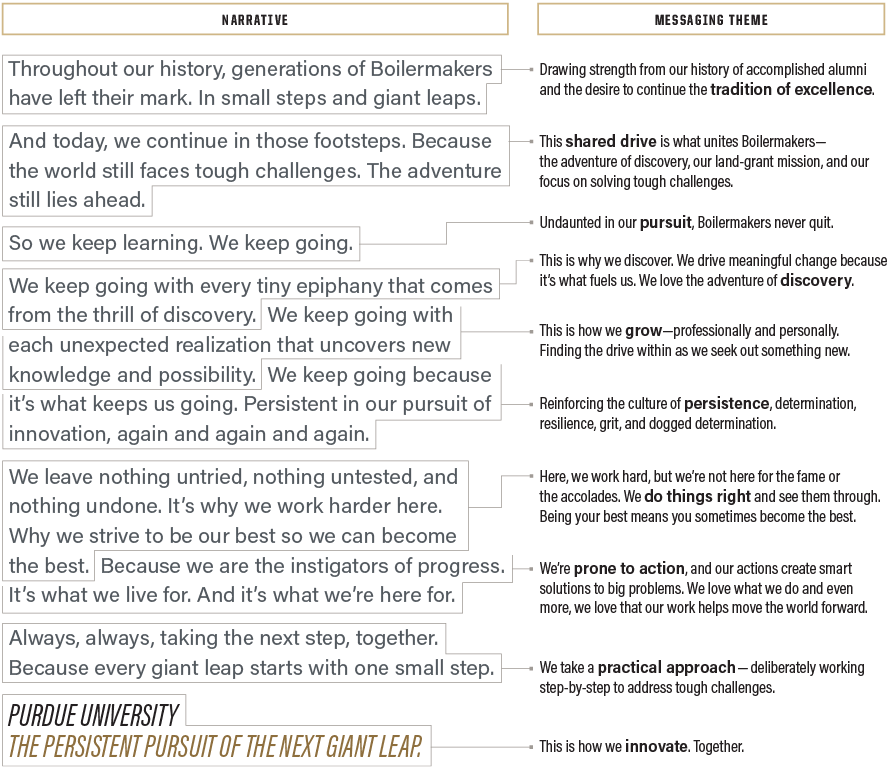 Drivers of Our Voice
Our personality drives our voice. These six characteristics inform the tone of our language. The specific vocabulary you use will vary, but you should always ensure that the Purdue voice is driven by these essential ideas. When telling stories, choose examples that showcase how Purdue embodies these features. Use them to make your story more compelling and full of emotion. And use them to tie every story we tell to these common, unifying themes.
Driven
Show how people at Purdue are relentless in everything they do. We never give up, we never slow down, and we never stop in our attempts to do something big.
Balanced
Every Boilermaker's pursuit, regardless of discipline, is equally important. In STEM, in the arts and humanities, in athletics, in campus life, and in every facet of our work, we are always chasing something momentous.
Intentional
We are focused and deliberate in our actions, and we're dedicated to the process of doing things the right way.
Innovative
Innovation doesn't exist solely in our research efforts or the STEM disciplines. Each of us is always exploring new ways to approach problems, and attempting new ways to create something the world has never seen before.
Inclusive
Purdue is more than an exceptional institution. It's a collection of exceptional people, coming together every day to work together, support one another, and build a community united by a common pursuit.
Respected
We're people you can trust because we've earned a reputation for being credible, reliable and rigorous.
Filters for Storytelling
Every story that we tell about Purdue University should support the larger messages behind it. To do so, it's important that each story has a singular focus. As you consider all the elements of your story and the themes it's conveying, use one of the following storytelling filters to tether your facts to one, higher-level truth about Purdue.
A Story of PEOPLE
Use your story to illustrate the kind of people we are.
THINK:
"We are the kind of people who ____________."
Whenever possible, make a Purdue student the hero of your story, showing them as the proof of all that we do as an institution. Purdue should be cast as the mentor, or as the environment that makes each student's work possible. Give students credit for the work that they do and put them at the heart of all that we do.
A Story of PLACE
Use your story to highlight the uniqueness of this place.
THINK:
"This is the kind of place where ___________."
Part of the reason we're able to do all that we do is because of our location. We're Indiana proud, we have a Midwestern work ethic, and we have a personality and values that could come from nowhere else. Our stories are believable because they could only come from right here at Purdue.
A Story of PROCESS
Use your story to show our specific way of doing things.
THINK:
"We're able to do all these things because we do them our own way."
"Persistent pursuit" speaks to process, and when we talk about the achievements of our students (and others at Purdue), we should illustrate all the hard work and perseverance it took to reach their goals. People come to Purdue because they're willing to put in the time and effort. It's how we do things.
Core Brand Language
In this section, you'll find useful language constructions that serve as the highest-level expression of our brand voice. Designed to speak to the core essence of the Purdue brand, this language is appropriate for all audiences, particularly when speaking to the entirety of the University.
THIS LANGUAGE IS ALL TIED CLOSELY TO THE CHIEF LANGUAGE CONSTRUCTION OF OUR BRAND:
The Language We Use
THE NEXT GIANT LEAP
This is the key narrative thread that runs through everything we say and do. "The Next Giant Leap" represents the energy that propels all that we do. Inspired by Purdue alum Neil Armstrong's historic moon landing, the Next Giant Leap is our way of communicating the importance of what's happening here, every day — no matter how big or small — at Purdue University.
THE NEXT GIANT LEAP
IT'S INNOVATIVE. It's what's "next." Always looking forward to where we're going as an institution and where we can go as a society.
IT'S COLLABORATIVE. No one takes a giant leap all alone. We are a community of people who always have one another's backs, and bring together our unique talents and skills in the service of something big.
IT'S PERSONAL. Each of us defines our own giant leaps. Whatever work we're doing is the giant leap we're taking in our own lives and careers.
IT'S STEM, PLUS MORE. We use this language to speak to the totality of Purdue's efforts.
IT'S RELENTLESS. We speak to the many small steps we take, day in and day out, again and again and again, to push thinking forward and make bold strides toward something new.
AND IT STARTS RIGHT NOW.
RIGHT HERE.
WITH THE WORK WE DO EVERY DAY AT PURDUE.
Useful Constructions
MAKING GIANT LEAPS POSSIBLE
We're making strides toward giant leaps in a wide range of fields and disciplines. Our language can follow. Use powerful and specific verbs to illustrate this, pairing them with unexpected or surprising work:
Use language like:
Growing the next giant leap.
Building the next giant leap.
Inspiring the next giant leap.
Developing the next giant leap.
Dreaming up the next giant leap.
Tackling the next giant leap.
Inventing the next giant leap.
Effective Use of Gerunds
In this construction, we can turn verbs into nouns to make a bold, declarative statement. Although there are many instances where more active language is useful, here we use "_____ing the next giant leap" to describe the way that this activity is a way of life here at Purdue. Paired with an evocative photo, it makes a powerful impact.
MAKING GIANT LEAPS POSSIBLE
At Purdue, a giant leap doesn't need to feel like a huge, difficult undertaking. It's the logical result of all the work we take on every day and every challenge we face in our pursuit of it. Use language that illustrates the small steps each of us takes — day in and day out — as we work toward our bigger goals.
Use language like:
Every giant leap starts with one small step.
Changing the world, one small step at a time.
Earth-shaking possibilities. Mind-opening realizations. They all start with one small step.
The innovation that will move the world forward. It starts with one small step.
The new understanding that will connect us all. It starts with one small step.
From creative spark to sparking a creative revolution. And every small step in between.
PERSISTENT PURSUIT
Use this phrase to highlight the work we do daily to drive the next innovation and the next giant leap. With its alliterative pattern, and words that subtly evoke the sound of our institution's name (persistent, pursuit, Purdue), this construction speaks to our spirit and drive, while sounding uniquely like Purdue.
Not only does this language subtly evoke the Purdue name (through the sounds of the words), but it's a simple way to speak to the importance of the work that we're doing, elevating it to it's proper level.
The persistent pursuit of smarter business models.
The persistent pursuit of the truth.
The persistent pursuit of healthier communities.
The persistent pursuit of more meaningful connections.
The persistent pursuit of smarter solutions.
The persistent pursuit of my true voice.
THAT'S MY GIANT LEAP
Use this terminology to tell human stories of persistent pursuit. The phrase speaks to the purpose behind each person's individual efforts. You can use it to talk about either the process ("from…to…") or the outcome.
IMPORTANT
A "giant leap" doesn't need to be a massive, world-changing accomplishment. Sometimes it's just an achievement that changes the world of the person who makes it.
Use language like:
The small steps that take us from earth to the world beyond. That's my giant leap.
From risk-taker to Boilermaker. That's my giant leap.
From "I wonder" to "I will." That's my giant leap.
Engineering new ways to bring fresh, healthy food to all who seek it. That's my giant leap.
Raising my voice to shed new light on those who face injustice. That's my giant leap.
From what could be to what will become. That's my giant leap.
MAKING GIANT LEAPS, TOGETHER
Here, no one stands alone, and nobody takes a step without the support of many other Boilermakers standing behind them. Use language that speaks to this community of Purdue students, faculty, staff and alumni, all coming together in the pursuit of a common goal.
Use language like:
Here, thousands of Boilermakers stand together to make giant leaps of their own. Where will yours take you?
You're here to take a big step. We're here so you don't have to go it alone.
Always, always taking the next step together.
One Boilermaker. One community. And one small step at a time.
We stand up for each other. Stand behind one another. And always stand together.
Secondary Brand Language
These pages contain some additional, second-level voice constructions. Use them deeper in a document, or for audiences who are more familiar with our brand and its elements, or when speaking to specific, detailed offerings of the University (rather than on behalf of the entire University).
AGAIN AND AGAIN AND AGAIN
Use language that suggests the tireless, never-ending work that each of us commits ourselves to at Purdue.
For example:
Attempting to write one perfect sentence. Again and again and again.
Finding new ways to reduce the contaminants in our drinking water. Again and again and again.
Trying to fit all the right pieces into place. Again and again and again.
WE KEEP GOING
It speaks to the drive behind all our efforts.
We're here to to accomplish something big. And we keep going to show the world what's possible.
We keep going because it's what keeps us going.
In the lab, in the field, in the studio and on the stage. We keep going.
Crafting Content
Every time we communicate on behalf of Purdue University, we have an opportunity to delight our audiences and build further affinity for this institution, creating something lasting in the hearts and minds of our audiences.
When we craft content, we must bring together all the elements in our brand's toolbox — bringing together our voice and tone, personality, key messages, an understanding of our audiences, and the structures that denote who we are and what we stand for — to go beyond a simple reporting of the facts and tell a compelling story.
In the section that follows, you'll find a variety of tactics, suggestions and things to keep in mind when writing about Purdue. While it's impossible to employ every brand element in every communication, the more we can connect our messages to these fundamental ideas, the more effective our storytelling can become.
Tips for Writing
Good writing feels purposeful, intentional and, above all, believable. Here are several principles to keep in mind when crafting your next communication.
3 Things You Always Have to Do
Give your audience something to be interested in.
Give your audience something to care about.
Give your audience a way to connect to the work that we're doing.
Some Ways to Try to Get There
Start with a hook. Give them a reason to care right away. Lead with a benefit.
Find an angle. A story should be about one thing. Place, process, purpose, people.
Find the hero. People are at the heart of everything we do. Put them there.
Reveal our character. You don't always have to say "The Next Giant Leap." But you should always show the way we're persistently pursuing it. Demonstrate what Purdue is doing to create possibilities for our students, our state and our world.
Breathe life into every word. Our voice is personal — we write like we talk. Read it out loud to test.
Avoid jargon and hyperbole. Even if it's what everybody says. Especially if it's what everybody says.
Cut out excess. Say only what you need to say. Get to the point without using unnecessary words.
Say one thing well. Don't overwhelm your audience with information or tiresome lists of information.
Use inclusive pronouns. "We" speak to "you" whenever possible. Our voice is a conversational one.
Show the impact of our work. Every story should reveal why we do the things we do.
Make an emotional connection. Decide how you want your audience to feel, and write accordingly.
Draft a plot. Rather than state the benefit, dramatize it. Show our brand promise at work.
Find the voice. As a rule of thumb, start with a compelling message and an understanding of our personality. By following these guidelines, we will all begin to craft an identifiable and consistent brand voice.
Bringing It Together
Answer these questions before you write anything, and you'll be most of the way there.
What Are We Talking About Here?
How does this story show how we're persistently pursuing the next giant leap?
How does this story convey the way we deliver practical solutions to today's toughest challenges?
How does this story illustrate the ways that people bring their best and learn to build a better world together?
How are we doing this in a way that's different from other institutions?
How does this story embody and celebrate who we are at Purdue?
Who Are We Talking to Here?
List all possible audiences for your story.
Prioritize them.
Determine what they care about.
Draw on this understanding to decide whether our voice should be more casual or more formal.
What Larger Truth Is This Story Revealing About Purdue University?
If you think of the specifics of your story as proof points, what point are they proving?
Find ways to connect the details with the larger benefits and attributes of the institution.
Use the message map from our brand strategy as your guide.
Choose one big message (and only one), and go with it.
Tips When Writing Shorter Copy
When space is limited (social media, banners, billboards, etc.), it's still important to incorporate as much of our brand voice as possible. Try to keep all the preceding tips in mind and use them as you can. But when you're keeping a close eye on your word count, and you only have 10 or so words to convey hundreds of words of content, consider the following:
1. Craft a Narrative, but Quick.
How quickly can you tell your reader:
Who we are
Why we matter
Why people should care (Don't waste a word.)
2. At the Highest Level, Brand Language Carries a Lot of Weight.
When you only have a couple of words, it's often the best time to use our most-used ones.
Building the next giant leap. The persistent pursuit of the next giant leap. Innovation, with every small step.
Use words that already say a lot about Purdue.
3. Speak Directly to Your Reader.
Particularly in social media, this is where we can get up close and personal with our audiences. Get right to it and get right at them.
4. Say Just One Thing.
Nowhere is this advice more important. When you can't say much, just say one thing well. This isn't the time to confuse your reader with lots of messages.
5. Give a Clear Call to Action.
In addition to the one thing we want them to know, there should be one thing we want them to do. If possible, give your reader actionable next steps.
Purdue Voice Checklist
When writing any communication, ask yourself:
Does this relate to our positioning statement?
Does it lead with audience benefits?
Are they paid off with our attributes?
Does it sound like something a person with our brand's personality traits would say?
Is at least one of our key messages included?
Is this appropriate for the intended audience, and conveys the relevant aspects of our personality?
Does it get to the point, or is the key message buried?
Do the headlines convey our voice, or are they simply labeling the content?
Does it move beyond a simple statement of the facts to reveal something bigger about Purdue?
Social Media Tips
Twitter
How to use it
Many of our audiences communicate through one or more of the four main social media channels. It's important to keep in mind how various users interact with these different channels, and how this behavior translates to engagement with our brand. Below are high-level practices to consider so that the appropriate content, crafted in the right manner, is effectively received.
Tweet live-event updates, engage one on one with the campus community, and seek out and engage with the academic community.
Users and Successful Content
Current Students: Answering questions about facility issues, when things are open, upcoming events
Campus Leaders: University news
Peers and Experts: University news
Prospective Students: Retweeted acceptance letters, info about student and academic life
Supporters: University news and big achievements
Copy Approach

Image Production Value

Facebook
How to use it
Share news, updates, photos and videos that highlight Purdue's academic community.
Users and Successful Content
Current Students
Prospective Graduate Students: Student success stories with visual content, student life, and big University events and traditions
Parents: Student success stories with visual content (videos are best) and fun traditions
Copy Approach

Image Production Value

Instagram
How to use it
Post visually striking, "in the moment" photos and videos that give a sense of student life across all programs.
Users and Successful Content
Prospective Students: Student and academic life, student takeovers, quizzes about student life, beautiful pictures, fun videos, student success stories
Current Students: Student and academic life, student takeovers, quizzes about student life, beautiful pictures, fun videos, student success stories, campus events
Copy Approach

Image Production Value

IG Stories
How to use it
Post in-the-moment or behind-the-scenes photos and videos that give a sense of student life across all programs.
Users and Successful Content
Prospective and Current Students: Student and academic life, student takeovers, fun videos, University events
Copy Approach

Image Production Value