Web Content Management
Purdue University leverages a variety of web content management systems (CMS) to maintain and publish websites. The Marketing and Communications Digital team supports these efforts by providing branded themes and templates for the most popular platforms.
Branded Themes
WordPress
The marketing web development team actively supports a branded theme for websites powered by WordPress. WordPress sites are typically used to promote short term initiatives and where frequent updates are required.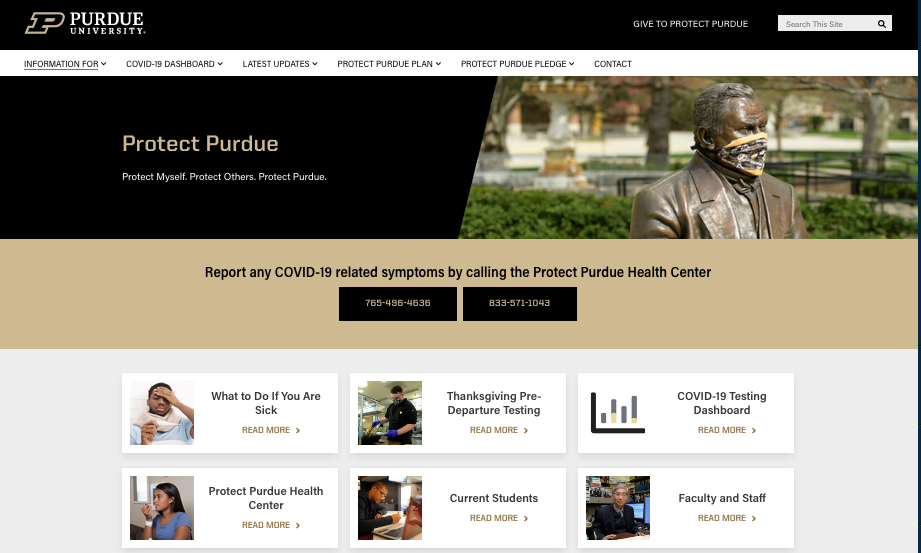 The branded WordPress theme is available to all ITaP WordPress instances and is also available for download from github.com/Purdue.
Web Fonts
Sites not based on the standard marketing and media templates can use the new brand fonts by adding the following CSS files to their pages. These fonts are licensed for all Purdue domains. Please submit a digital marketing request, if you experience any issues implementing the fonts.
<link href="https://www.purdue.edu/purdue/fonts/united-sans/united-sans.css" rel="stylesheet" />
<link href="https://use.typekit.net/ghc8hdz.css" rel="stylesheet" />
Favicon
A favicon — also known as a shortcut icon, website icon, tab icon, URL icon or bookmark icon — is the little icon that browsers display next to a page's title on a browser tab, or in the address bar next to its URL. A favicon is also used when you bookmark a page. Measuring 16×16 pixels, it is tiny, but it can play a big part in unifying Purdue sites. See below for an example.